It's Andrew's birthday today!!! happy happy birthday my friend… bought a present for him and was actually lazy to wrap it. In the end, I though that was necessary… hahaha… hope you like the present and the card boy…
It was Asai Sotaro's birthday too. I was suppose to go to st anne and celebrate with him. It was a very indecisive night yesterday to go or not to go and In the end, I did not go. As I looked back…
"Sotaro, I'm sorry I didn't go to school and celebrate your birthday. I hope you are not disappointed. To be honest, I really, really regret not going to see you now(if I had knew that……). It's Friday today, next year, your birthday will be on Saturday, and Sunday for the following year. No idea if you will still celebrate. Hope you do. But know this, you will always be my sunshine. (: gonna see you very soon after my exams."
It was the first day of my examination… well, seriously, I've to thank God and Holy Spirit for guidance… it went well and was really satisfied, although I though I could have done better if I focus more on the FINAL revision my lecturer gave like a day before the exam. (: nonetheless, thank you for your prayers. you know who you are... if you had prayed for me.. haha...
After that, went to blk 56 to get my AST results… was shocked when on the result slip showed "D+"… it was rather very disappointing. Yet, while I was on the bus, I was thinking, hmmm, my objectives was bringing a good laugh to the class and enjoying myself in front. So, since I achieved that objective, (I hope so, right? Haha..) grades doesn't bother me anymore. I definitely enjoyed myself though it was nerve wrecking, and joy ma said that Lina had such a hard laugh… so I guess I should be happy…
After paper, went to Farrer Park to have my dinner. Gosh… I just love the food there… Yummy… look at this below and you would have agreed with me. sizzling hot!!!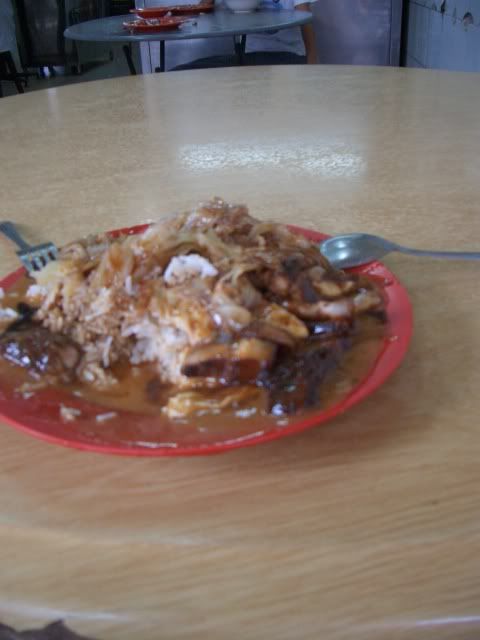 dont you think so? cabbage, egg, pork and all the sauses...!!!
Saw another name during this week in st anne's kindergarten… this is really weird.
WEE IKE-RAE
Come on… who do you read that? The kid himself cant read his own name… give these kids a break… you think they'll like their names when they grow up?
Maybe. Heehee…
Happy Birthday, SunShine!!!
i confessed that i said i hate japanese and all the stuff. (cuz of war la) but you are not included(: